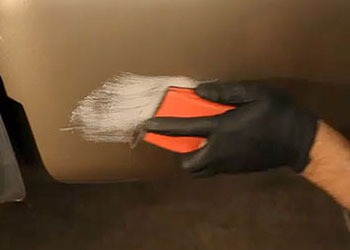 This car had a small dent on the side. To repair something like this, will cost you hundreds of dollars at the bodyshop. Who has extra money in this economy? In this post, I will tell you how to do the same repair  for a fraction of the cost.
All of my car paint repair tutorials are designed for beginners with no prior experience.  I try to provide  as much information as possible including step-by-step pictures and videos.
To repair this dent, you will need to use body filler, spot putty, primer, touch up paint and clear coat. This fun do-it-yourself project can be easily done over the weekend. No experience needed.  I don't recommend using cheap products, since they can compromise the result.  My goal is to save you money, but still give you good quality products. Below are the products I personally use and recommend to all of my friends.
Items You'll Need:





Optional Items:
I want to save you as much money as possible, that is why I put all of these items under optional. I know that some people have money only to buy the minimum and don't care if their car has showroom shine.
Step 1: Get Touch Up Paint
It is very important to have a good quality matching touch up paint. There should be a label with a paint color code somewhere inside of your car. If you have difficulty finding it, read my article on where to find paint color code.
Step 2: Personal Safety
I know that some people think it is a not a big deal, but I do recommend protecting yourself by wearing gloves, goggles and a mask. The paint products are toxic and should not be inhaled. You should at least wear the mask.
Step 3: Wash the Area
Start the repair by washing your car. Prep solvent is a great way to remove wax, oils and dirt. The goal is to start with clean surface.
Step 4: Sanding
Sanding is done to promote mechanical adhesion. Sand the area with 180 grit sandpaper to get rid of any peeling paint and to prepare the area for a body filler.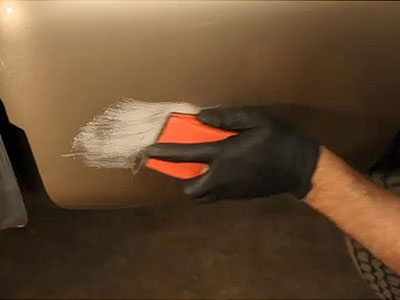 Step 5: Apply Body Filler
Body filler is used to fill dents, very deep scratches and holes. Buy a good quality body filler. You will be thankful later. The cheap stuff, that costs about $10  a gallon, will cure rock hard and you will end up spending a lot of extra time sanding it. In addition, to the lost time, you will lose all the money you saved on extra sandpaper.
Body filler comes with a cream hardener that needs to be mixed with the filler before application. Read instruction first. Mix the filler with the hardener on the plastic mixing board

until the mixture is one uniform color. If you don't have money to buy a mixing board, you can use a regular cardboard. The down side of using a cardboard is that it might suck out some of the chemicals out of the filler. But if you are fixing only one dent and not doing the whole car, I think there will be not enough time for the cardboard to absorb the chemicals. If you have a lot of dents, definitely use a plastic board.
You need to make sure you mixed enough filler for your repair the first time. Since it hardens quickly, going back and forth mixing more filler will result in different hardiness of filler next to each other.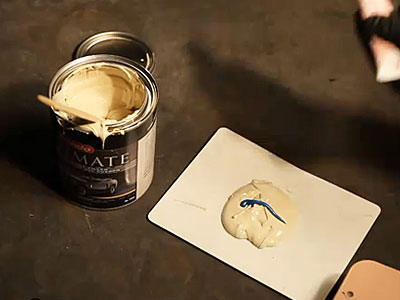 You also don't want to apply more filler than you need because it will take you longer to sand it. The recommended amount of filler should not exceed more than a 1/4 inch thick. It is best to apply filler with a plastic spreader. The time it takes to cure really depends on how much hardener you added, the temperature in the room or outside, and how much of the filler did you apply to the surface. On average, it should take about 20 min to cure.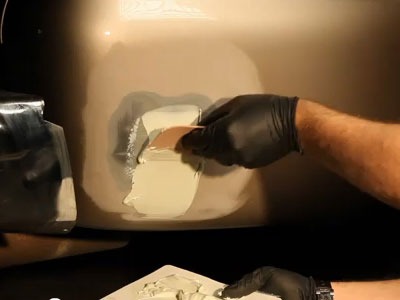 Step 6: Sand Body Filler
Sand the roughest parts of the filler with 40 grit sandpaper. Work your way into 80 grit and follow it with 180 grit.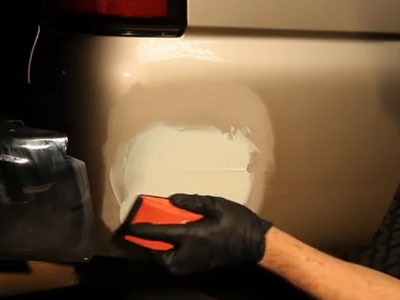 Step 7: Apply Spot Putty
Spot putty is used to fill in imperfections like deep scratches and pin holes in the filler and achieve a completely smooth surface.  Apply a thin coat of spot putty using a plastic spreader. Let it dry before sanding.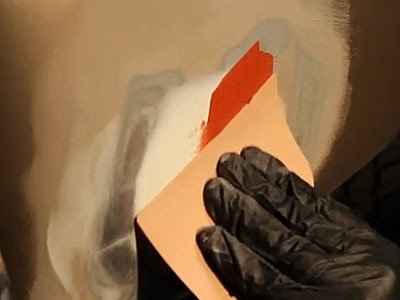 It will take anywhere between 15-30 min for the spot putty to dry. Sand it with 180 grit and then move to 320 grit. Next, clean the area with prep solvent and dry completely.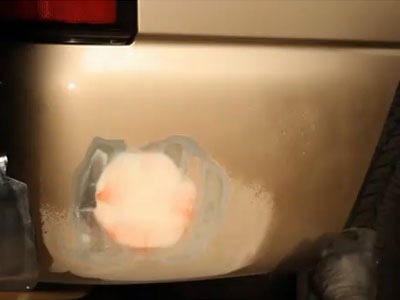 Step 8: Masking
Mask the area off before applying primer to prevent overspray. Use auto masking tape and old newspappers or plastic. Duck tape is too sticky and will leave a residue that is hard to remove.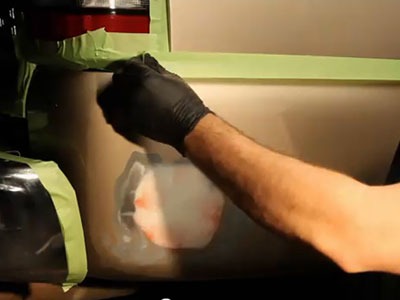 Step 9: Apply Primer
Primer comes in different colors. The closer is the color of the primer to your car, the easier it is to cover with touch up paint. For this repair gray primer was the best. Use a plastic trigger for better control. It easily slides onto the can turning it into a spray gun. I know they are not using it in this video, but it really helps especially if you are beginner.
Read instructions. Shake the can. Hold the can 15 inches away from the surface and spray in even strokes. 3-4 coats of primer should be enough. It take about 15 min for each to dry.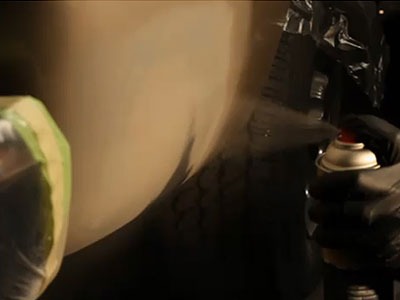 Step 10: Sand Primer
Wait 30 min for the primer to dry. I prefer wet sanding over dry. Soak sandpaper in cold water for 10 min. Spray the area with water. Gently sand the primer with wet/dry 600 grit sandpaper. Adding few drops of dish soap to the water will make it more slippery. When done, clean and dry the surface. Now, you are ready for touch up paint.
Tip: In this step you can remove primer overspray by sanding it with 1,000 grit sandpaper. Gently wet sand the area around the primer that might get some touch up paint and clear coat with 1,500 grit.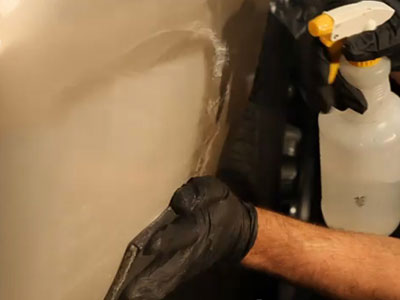 Step 11: Apply Touch Up Paint
Read instructions. Use a plastic trigger to convert your can into a spray gun. This step will give you better control and coverage. Shake the can. 3-4 coats of touch up paint should be enough. Spray even thin coats giving each coat 15 min to dry. Wait for 30 min before applying clear coat. For better paint blending, each coat of paint should cover a little more area than a previous one. It's called paint "feathering".
If you see some dust settle, you can gently remove it with a tack rag.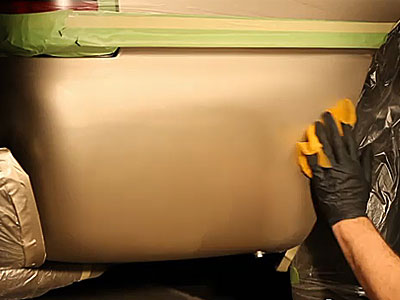 Step 12: Apply Clear Coat
At this point, the paint will look flat and dull. Clear coat will protect paint and give it some shine. Read instructions. Slide a plastic trigger into the can. Shake it well. Spray 3-4 thin coats of clear coat giving each coat 15 min to dry.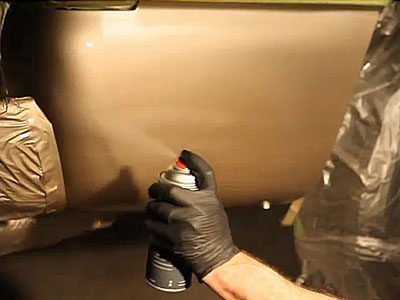 When clear coat is dry, remove the mask. Overspray can be easily removed by wet sanding the surface with wet/dry 1,500 grit sandpaper.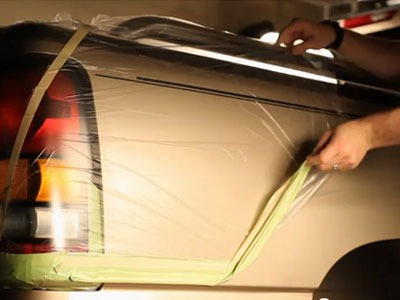 Step 13: Rubbing Compound
Rubbing compound is used to remove any imperfections in the clear coat. It works like a fine sandpaper. Wait for one day for the clear coat to dry before applying rubbing compound.
Step 14: Polishing Compound (optional)
For showroom shine use polishing compound. You can applying by hand or buffing machine.
Ste 15: Wax (optional)
Wait for one month before applying wax.
Final result: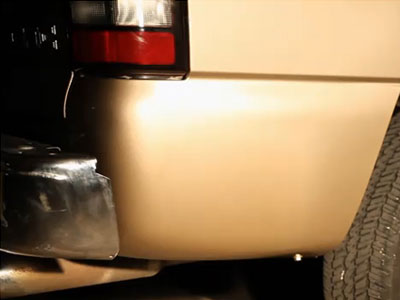 I know that car paint repair is not something most people do everyday, so don't hesitate to ask me questions. I am always happy to help.
~Mike Davis
P.S. If you like this article, please help me promote it by clicking "Like" button below.