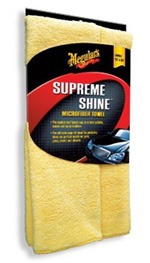 Lately, there have been a lot of conversations about microfiber and you are probably wondering what the buzz is all about. When detailing a car, many materials leave lint and swirl marks that is hard to remove without scratching the surface. Microfiber material can help you get the shine you want without damaging the clear coat of your car.
In my scratch repair tutorials, I always use microfiber towels for all of the detailing steps. A lot of people will probably think that buying a microfiber towel is a waste of money since the same job can be easily done with old t-shirts or washclothes. What they don't realize is that cotton fibers of these materials are too rough and will leave small scratches on the surface of the car. Microfiber material is specially designed to remove dust, dirt and wax residues without damaging the clear coat.
How Does It Work
When it comes to creating a showroom shine, bodyshop professionals all over the world choose microfiber material. The secret is in the unique combination of synthetic fibers that create an ultra-fine fabric. It is exceptionally soft and super durable. Microscopic loops can reach into the smallest nooks and crannies removing all the dust and dirt.
If you look at the denier, a unit for measuring density of fibers, microfiber is only 0.02, which is extremely fine comparing to the silk that is 8. The microfiber fibers are only 1/16th size of a human hair.
What Brand Is The Best
Of course not all products are the same quality. For the material to be effective, it needs to go through the "splitting" procedure which splits polyester and polyamide. This method is very expensive, but necessary to create a high quality product. Cheap materials produced in Korea and China often bypass this process resulting in less density. Those products are not as durable and as absorbent. They also can leave swirl marks and lint.
After trying different brands, I like Meguiar's Microfiber Towels the best. This next generation microfiber comes in a 3-pack. The material is very thick and soft. It even has silky smooth edges, so you don't mistakenly scratch your paint. I use it for applying scratch remover, polisher and wax. The result is always great. Showroom shine surface with no residue and no swirls. It has a dual-sided pile that is 3 times more absorbent than a terry cloth making it great for drying a car and eliminating water spots. Also, it works very well for applying quick detailer since you can apply it with one side and buff it with the other.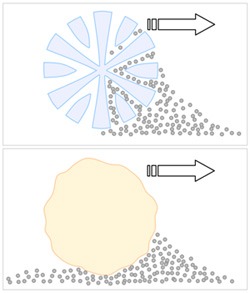 Great For Cleaning
Because microfiber is positively charged material, it attracts and traps negatively charged matters like dust and dirt. That is why it is not only great for car detailing but also for other things like cleaning door jambs, windows, leather, plastic, stainless steel, glass and more. When using microfiber, you don't need to worry about scratching the surface.
Microfiber Towel Care
Before using it for the first time I recommend prewashing it in warm water. That will increase the absorbency of the material. Also, to avoid scratching the surface, remove off the tags.
Since this product attracts and traps dirt, it might get clogged and loose its magnetic abilities after a few uses.  Wash it in warm water with some detergent on delicate setting,  don't use fabric softener or bleach. Fabric softener can weaken the positive charge of the material reducing its effectiveness.
While being ultra-plush, it is very strong and durable material that can go through over 500 washings. It takes only ⅓ of the time for microfiber to dry comparing to the regular cloths. You can dry it in an electrical dryer on low setting or just let it air dry.
Consumer Reviews
Before recommending any of the products to you, I always test them myself and also make sure they get the best reviews online from the consumers. Over 70 people posted their reviews on Amazon.com
giving Meguiar's Microfiber Towels 4.5 out of 5 stars. Most of the consumers were very impressed with the quality and performance. When using this product for car detailing, they got a quality shine, streak free and debris free finish with very little effort.

Consumers found this product to be also great for cleaning household items and felt that the quality was much better than microfiber sold at big stores like Costco, Walmart, or Target. Another thing that everybody seemed to like is the size of the towels which is 16×24 inches, not too small and not too big. Some even said that it works as well, if not better than, a real chamois. I absolutely agree with the consumer reviews, the Meguar's microfiber towels is a great investment that will last me for a long time.
~Mike Davis
P.S. If you like this article, please help me promote it by clicking "Like" button below.