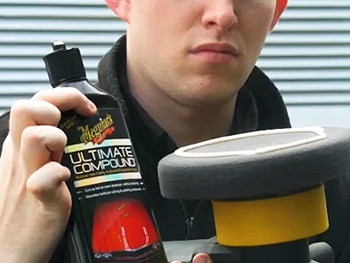 Car scratch remover, also called rubbing compound, is used to remove minor car scratches, oxidation, stains, water spots and general neglect. Repainting a car takes a lot of time and money that many car owners don't want to spend. Rubbing compound is an inexpensive and a fast way to remove minor scratches and oxidation without the hassle of a full paint job.
Traditionally, most compounds are difficult to work with. After rubbing compound application, it dries to a white haze that takes a lot of time and energy to remove. Also, when removed, some products produce swirl marks on the vehicle's surface that needs to be removed by special swirl remover or polisher. This is one of the reasons why I was happy when Meguiar's released a new revolutionary product called "Ultimate Compound".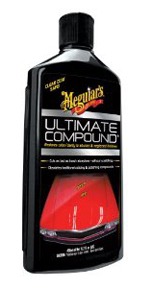 Product Features:
Easy to Apply
Removes Minor Car Scratches
Removes Oxidation and Swirl Marks
Effective for Removing Water Spots
Specialized Abrasives Restore Surface Clarity without Scratching
Leaves a Like-New Finish and Adds Gloss in One Step
Perfect to Use Before Waxing
This scratch remover dramatically reduces the time and effort required to restore an abused or neglected paint finish. It cuts fast, leaving a beautifully finished surface. The secret is Meguiar's exclusive micro-abrasive technology created for Meguiar's state-of-the-art products for body shops and dealers. The abrasive particles in Ultimate Compound do not diminish when polishing. This results in a uniform, constant cutting power. Ultimate Compound is designed to restore gloss on dull, oxidized finishes or to remove deeper water spots and paint scratches.
When the compound is rubbed in, it evens out the surface of the paint and smoothes the edges of the scratches. This, in turn, removes marks and minor scratches from the paint's surface without damaging the clear coat. Once filled, the scratches appear smooth and are no longer visible. It can be used by hand but really excels when applied with a Meguiar's Dual Action Polisher.
I found this video that shows you how easy it is to use Ultimate Compound:
Ultimate Compound got amazing reviews from consumers
and is top rated on Amazon.com among other leading car scratch removers. I've done my own testing of top car scratch removers, described in my article "Best and Worst Car Scratch Repair Products", and I have to say that Ultimate Compound is one of my favorites. It really gets the job done.
On most colors, you can go directly from compounding to the final wax or sealant. To get a brilliant high gloss protection, I personally use Meguiar's Tech Wax 2.0.
~Mike Davis
P.S. If you like this article, please help me promote it by clicking "Like" button below.