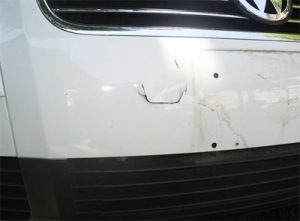 This article is part of my car scratch repair tutorials. Today, I will tell you how to repair a big bumper crack. As you can see from the picture above, the damage to this Volkswagen Passat was very extensive. The crack in the front bumper was about 2 inches long.
It will take you a few days to finish the project. Avoid working in direct sun, high wind, and high humidity as these conditions might compromise the repair.  The best temperature for spray painting is 72F with 50% humidity. If you are doing it during winter, find a heated garage.
To fix this damage you will need to:  clean the surface, apply body filler, spot putty, apply primer, touch-up paint, and clear coat.
Below are listed my favorite products that I've battle-tested over the years. My goal is to save you money without compromising on quality. Low-quality products might jeopardize the repair. So, if you want to use other products, make sure they are high quality.
Items you need:
Assorted Wet/Dry Sandpaper – This pack includes 5 sheets of assorted sandpaper (1 sheet each of 180, 320, 600, 1000, and 1500) and can be used for sanding primer, clear coats, and automotive paints.
Body filler
Primer (aerosol spray)
Touch-up Paint (aerosol spray) – Custom paint matching your car
Clear coat (aerosol spray)
Masking tape and old newspapers
Prep solvent – It removes oils, road grease, dirt, car wax, and other surface contaminants and also improves adhesion to the surface.
Meguiar's Ultimate Compound – You can use any rubbing compound you like, just make sure it is clear coat safe. Meguiar's Ultimate Compound is the best car scratch remover I've ever tried. It removes light-to-deep clear coat scratches, swirl marks, stains, and heavy oxidation in just a few minutes. It's clear coat safe and inexpensive.
Some Optional Items:

Step 1: Buying Touch-up Paint
I get a lot of emails asking "Where should I buy a touch-up paint?" You can buy it from the dealership or online. I personally buy it online at Automotivetouchup.com

because their prices are always lower than at the dealership.
Shipping usually takes just a few days. I don't recommend buying touch-up paint at the auto part stores or mega stores because they usually only sell universal colors that will not match your car's color.
Another question that gets a lot is "How do I know what color to order?" The car paint color code can be found inside your car. The location of the label varies depending on the make and model of your car. Sometimes, it is hard to find. Start by looking in the places like side of the door jamb, glove box, trunk, or under the hood.
Step 2: Personal Safety
Spray paint products are very toxic. Protect yourself by working in the area with good airflow and by wearing gloves, a respirator, and goggles.
Step 3: Wash the area
As with any repair project, you need to start by preparing the surface. Use an auto soap specially designed for removing oil, dirt, grease, wax and other contaminates. Dish soap and warm water will work too. Follow it with prep solvent. After you are done washing, dry completely.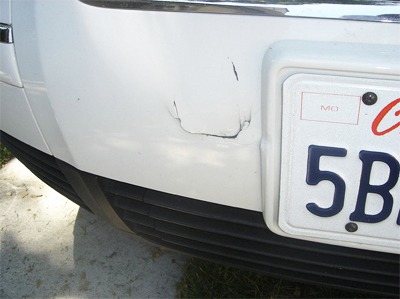 Step 4: Sanding
Because the damage is very extensive you need to use a body filler or a body putty to fill the crack. Fillers don't stick to paint very well, so you need to get the paint off by sanding the surface. Even though the crack is only a few inches long, you need to strip at least 2 inches beyond the damage.
Start by sanding wet/dry 320-grit sandpaper and follow it with 600-grit for a smooth result. At this stage, it doesn't matter if you use dry or wet sanding. The goal is to strip the paint and smooth out the edges around the damage. After you are done sanding, clean the area from the dust.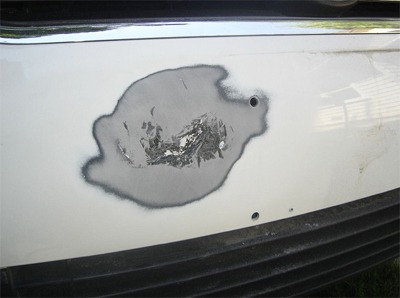 Step 5: Body filler
Body filler comes with base filler and hardening cream. Once they are mixed together, the reaction, which hardens the filler, starts very quickly. You will have only 5 minutes to apply it to the damaged surface.
Read the instructions on the product. After mixing the filler and the hardening agent, spread it in the area at least a few inches outside of the damage using a plastic spreader.
Give it enough time to harden before sanding. Using wet/dry 320 grit sandpaper sand the body filler. You will need to use spot putty to fill imperfections.
Step 6: Spot Putty
The spot putty is a version of filler that is much finer than body filler and is easier to sand. Spot putty is thinner than body filler but thicker than primer. It is great for filling deep scratches, minor surface imperfections, and pinholes.
It comes in a squeezable bottle already mixed in with a cream hardening agent. Start by reading the instructions. Apply a thin layer of spot putty with a plastic spreader.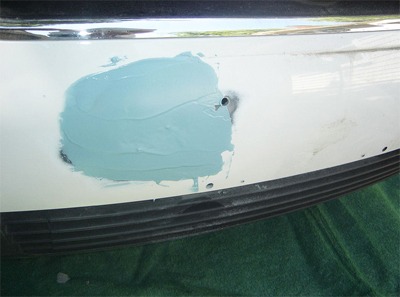 Step 7: Sanding putty
Give it enough time to dry before sanding. Sand it with 320-grit sandpaper and follow it with 600-grit. It is ok to do dry sanding. While sanding, keep checking with your fingers for smoothness.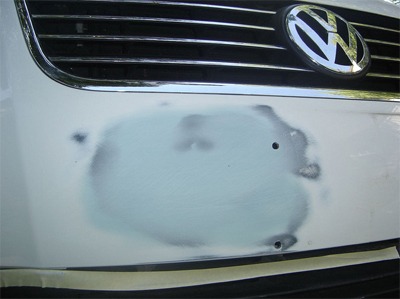 Step 8: Cleaning and Masking
Clean the area from the dust with a tack rag. Before applying primer, mask off around the repair area with auto tape and old newspapers to avoid getting primer on the non-damaged area. You don't want the primer getting outside of the damaged panel.
Step 9: Applying Primer
The primer covers 180-320 grit sand scratches and small imperfections. Read the instructions first. Shake the can well. Try it on the cardboard or some other surface before spraying your car.
Hold the can 6 – 12 inches away from the surface and spray several light coats. Make sure to give each coat enough drying time. Primer overspray can be easily removed by wet sanding with 1,500 sandpaper. After the primer dried completely, remove the masking paper and the tape.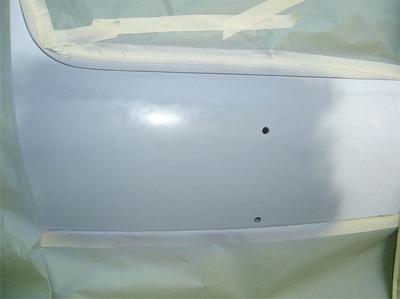 Step 10:  Sanding Primer
Wet sand the primer with 600 grit sandpaper and follow it with 1,000 grit. Before sanding, soak the sandpaper in water for 10 min. Wrap sandpaper around a sponge to avoid leaving fingerprints.
A few drops of dish soap will make the water more slippery. Make a few sweeps, applying light pressure, and wash it off. Wait for  30 min before applying touch-up paint.
Step 11: Cleaning and Masking
When you are done sanding, clean the surface and dry it completely. Use old newspapers and auto tape to mask off the whole panel where the damage is located. When applying paint we need a larger surface to blend the new paint with the old one.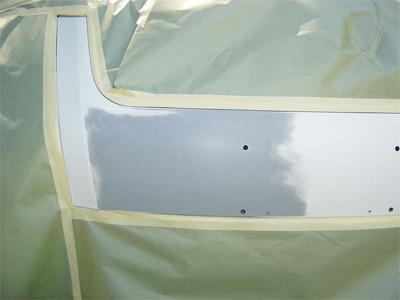 Step 12: Applying Paint
The best way to blend in the new paint with the old one is to do paint feathering. Feathering is when you lightly spray the area surrounding the damage with paint. Start by reading instructions. Shake the can well.
Try the touch-up paint in the hidden spot first, to make sure the color matches. Hold the can 12 inches away from the surface and spray even strokes. With each coat of paint spray a little farther outside of the damaged area. Give enough time for each coat to dry before applying the next one.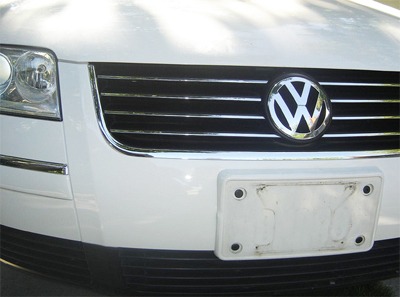 Step 11: Clear coat
Wait for 30 min before applying a clear coat. A clear coat gives the paint a layer of protection, brings out the color, and makes the surface shinier. A lot of touch-up paint comes with a clear coat already mixed in. In that case, you can skip this step.
If you need to apply a clear coat, start by reading the instructions. Shake the can well. Hold it 12 inches away from the surface and spray with even strokes. 3-4 coats should be enough. Make sure to give each coat enough drying time.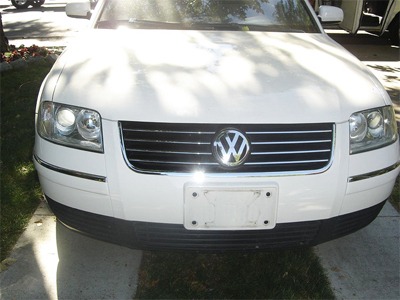 Step 12: Rubbing Compound
Give a clear coat one day to dry before using the rubbing compound. Rubbing compound can be applied by machine or by hand. Applying it by hand will give you the same result but will take a little longer.
If you have money to buy a polisher, I would recommend Dual Action Polisher. I use it to apply rubbing compound, polisher, and wax.
Rubbing compound makes the area smoother and shinier and is also great for removing oxidation from your finish. Use an application pad to apply the product. Place a small amount of rubbing compound on the foam applicator pad and start rubbing the surface using firm circular motions until the compound is dry. Remove the remaining product with a soft microfiber cloth.
Step 13: Polishing Compound
The surface might be a little dull after rubbing the compound. Use a polishing compound to restore the shine.
Step 13: Wax
You need to wait for 30 days before applying wax because wax creates a barrier that prevents paint solvents from drying up. It takes about 30 days for solvents to completely evaporate.
Hope this article helps. If you have any questions or comments, please use the comment box below. Have a great day.