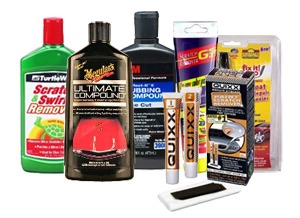 There is a lot of car scratch removers on today's market that claim to fix even the deepest scratches, but do they really work? I decided to do a little research on my own and test most popular scratch removers.
Since my car is in a very good condition, I had to use every car in my family. They were very happy, especially my mom, who gets all sort of scratches. I also wanted to see what other users think, so I read consumer reviews on different sites and auto forums. After few weeks of research and testing here are the results.
Best Car Scratch Removers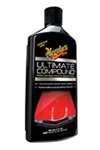 Product #1:  Meguiar's Ultimate Compound
The claim: Meguiar's Ultimate Compound claims to remove oxidation, swirl marks, light to medium scratches and water spots. It claims to have a revolutionary formula that cuts as fast as harsh abrasive compounds without damaging the clear coat. Consumers loved this product and gave it 4.5 out of 5 stars. There were very few negative reviews, most of them were due to incorrect application of the product.
My results: This product is #1, because it removes even some of the deep scratches that are very hard to fix without paint touch up. Meguiar's Ultimate Compound did a great job removing scratches and oxidation on my car, giving it a brilliant shiny finish. This is a high quality product that you can get for under $10. Take a look at Consumer Reviews on Amazon.com
Product #2: Quixx Paint Scratch Remover

The claim: The Quixx Paint Scratch Remover claims to permanently remove scuffs, scrapes and scratches from all paint surfaces. Overall consumers were very impressed with the results giving it 4.5 out of 5 stars. Users said this product did a great job removing scuff marks and clear coat scratches. Most of the low scores came from people who were trying to fix very deep scratches without applying paint first (it does say in the instructions that if the primer layer is exposed you need to apply paint). I agree with consumers, Quixx removed the scratches and kept them from re-appearing.
My results: I got a high gloss surface after using polishing compound, that came with a scratch remover. It is a little more expensive than the other two, but you get more for your money. For less than $15, you'll get a great scratch repair kit that contains: 4 different types of sandpaper, 2 polishing cloths, rubbing compound (also called scratch remover) and polishing compound (gives your car high gloss). Take a look at Consumer Reviews on Amazon.com
Quixx Step-by-Step Video
[field name=quixx_video]
Product #3: 3M Perfect-It Rubbing Compound

The claim: This product claims to safely and effectively remove grade 1200 or finer sand scratches, medium oxidation, swirl marks, and water spots, leaving a fine finish. Consumers gave it 4.5 out of 5 stars. This product got such high reviews because it does exactly as advertised, removes fine scratches and prevents them from reappearing.
My results: It did a good job removing light clear coat scratches on my car. It didn't leave a shiny finish like Meguiar's Ultimate Compound, but all the scratches and swirl marks were gone. For high loss finish follow it with a polishing compound. The price is also around $10, but it is difficult to find 3M products in auto stores. I always end up ordering them online. Here are Consumer Reviews on Amazon.com
Worst Car Scratch Removers

Product #1: Turtle Wax Scratch & Swirl Remover
The claim: It claims to remove minor scratches and swirl marks quickly and easily, leaving high gloss and showroom shine. Consumers gave it 2 out of 5 stars. The results where very poor. Users found it hard to put on and hard to remove.
My results: It did not remove light scratches and was reported to dull the shine of the car. It wasn't worth the money for me. After 30 minutes of rubbing, the swirl marks on the hood of my brother's car were still visible. It also formed a white film that was hard to remove. The price for this product is around $10. I found a Consumer Reviews at Epinions.com

Product #2: Scratch Away
The claim: Scratch Away claims to remove scratches, nicks and blemishes without painting or sanding. Consumers were not impressed, giving it 2 out of 5 stars. Most of them felt like it was a waste of money and said that it did very little.
My results: I don't like this product. I had few light scratch on the side of my car that I tried to repair with Scratch Away. It did reduce the appearance of scratches, but after washing the car, all scratches came back. I think for $10 you can find a much better product. Click here and scroll down for Consumer Reviews that I found on Buzzilions.com site.
Product #3: Simoniz Fix It Pro

The claim: This product claims to revitalize paint by removing light scratches, oxidation and minor paint stains and to provide an enhanced look to the vehicle. TV commercials show how easy and fast you can repair deep car scratches. Consumers were very disappointed with the results. One user wrote in the reviews, that Fix it was absolutely useless in repairing a light clear coat scratch and, despite following the instructions to the letter, just left a raised clear scar-like line on top of the scratch. Some users wrote that after just a first use, the nib of the pen has jammed. Consumers gave it 1.5 out of 5 stars.
My results: Fix It didn't do anything for me. It was like putting a nail polish on top of the scratch. While browsing different review sites and forums, I saw a lot of complains about fraudulent charges. I also found a lot of web sites that had fake reviews, after few weeks all the web sites were down. If you still want to purchase this product, to avoid credit card fraud make sure you buy it from respectable site like Amazon.com. Take a look at these Consumer Reviews on Amazon.com
Other Products
You might be surprised that I did not mention other popular scratch removers like Mothers California Gold, Nu Finish Scratch Doctor, Universal Scratch Remover, and Meguiar's ScratchX. Most of them got 3 out of 5 stars. There a lot of good products on the market, but in this post I just wanted to highlight the best and the worst car scratch repair products. I hope this helps.
~Mike Davis
P.S. If you like this article, please help me promote it by clicking "Like" button below.