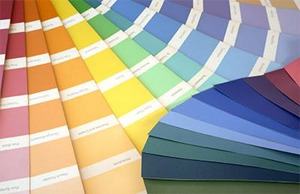 It is important to find car paint color code before ordering a touch up paint. Some people think they can just look at their car and guess the color. Big mistake! Even if the colors seam the same, they might be in fact different. To get the right paint, you need to know the color code which can be found on the label somewhere inside of your car.
On most cars it is pretty easy to find. Some of the common places are glove box, trunk, under the hood, passenger side door, inside engine bay area, or under the spare tire cover. However, some manufacturers made it very difficult by placing it in odd places. Even experienced painters sometimes have hard time finding it.
If you've checked all of the above places and still can't find it, check your owner's manual. Manual will usually provide you with the location of the label. If you don't have the manual, call a dealership with your VIN number. VIN stands for Vehicle Identification Number. It is a unique serial number used by the automotive industry to identify individual vehicles. They should be able to tell you the correct color code for your car.
As you can see, there are a lot of different number on the label. It might be difficult to find the right number for the paint.  Here is a label that can be found on a Honda. In case you are confused, the paint color code is YR562PX.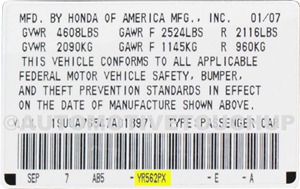 After finding the color code, you are ready to order the paint. To make sure the paint is a perfect match, test it in a hidden spot first. This step will save your from applying a wrong a paint.
Click on your manufacturer for examples on where to look and in some cases an image of how the paint code identification tag will look.
Car Paint Color Codes
~Mike Davis
P.S. If you like this article, please help me promote it by clicking "Like" button below.