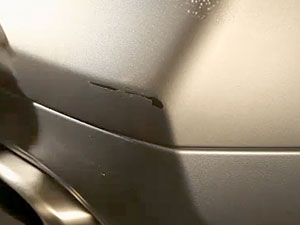 Taking your car to a body shop to repair deep paint scratches can cost anywhere from $500 – $1,000. Many people don't know that this expensive repair can be done at home with very little time and money. With the right tools and a good amount of patience, your car will look like nothing ever happened.
Learn exact repair techniques professionals at the body shop use to repair deep scratches. There is no good reason to pay someone hundreds of dollars of your hard-earned money to repair these scratches when you can do it yourself for a fraction of the cost.
In this post, I will tell you how to fix deep car scratches for only $50. First, determine how deep the scratch is. The scratch on the photo damaged the clear coat, paint layers and some primer, but didn't damage the metal. This scratch can be easily fixed in just a few hours and for only $50. No experience needed. I recommend fixing all the scratches as soon as you can to avoid rust development.
Here are the products I recommend using for this repair. Since I am just linking to the web sites that sell these products, the prices could change in the future, but you should still be able to stay within $50.
Items you will need:
—————————————
YOUR TOTAL: $49.77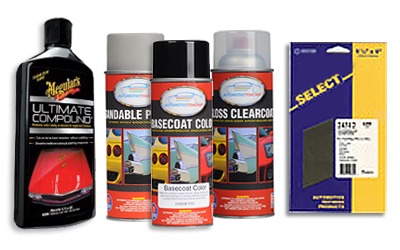 Optional Items:
Aerosol Spray Trigger – I put this item under optional items, however I think it is a must-have when it comes to spray painting. It turns a spray aerosol can into a spray gun making it easier to apply the paint and the clear coat.
Prep solvent – It removes oils, road grease, dirt, car wax, and other surface contaminates and also improves adhesion to the surface.
Meguiar's Ultimate Polish – Use your favorite polishing compound. I like Meguiar's Ultimate Polish because it uses diminishing abrasive technology, meaning the tiny abrasives break down gradually as you rub. This polish will give your car "wet look" you see in the show rooms. It is high quality, inexpensive, long lasting, and clear coat safe.
Meguiar's Tech Wax – Use your favorite wax. I like Meguiar's NXT Generation Tech Wax. This extremely durable, long lasting wax will make paint color look bolder and brighter with a smooth, sleek shine.  It protects against UV damage, and eliminates fine scratches and swirls, providing a tough polymer bond for durable protection.
Microfiber cloth – Avoid using other material such as bath towel, paper towel or wash cloth, as they might leave scratches on the clear coat.
Applicator Pads – For applying rubbing compound, polish and wax.
All of the above products are very inexpensive, but high quality. Although the goal is to save money, lower quality products might compromise the final result.

Video Tutorial: How to Repair Deep Car Scratches For Only $50
Step 1: Getting the paint
Start by locating your car's paint code. It might be on the side of the door jamb, glove box, or trunk. Sometimes it is hard to find. Here is a sample label that can be found on Honda. There are a lot of numbers on the label and it might be difficult to figure out which one is the color code. The paint color code for this car is YR562PX.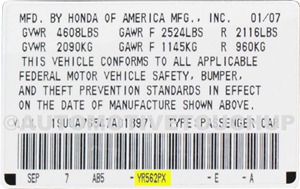 If you feel confused about color codes, you can just go to the site that sales auto paint and find your color code by selecting make, model and the year of your car. Even if the site displays a few blue color codes, it will be easier for you to compare it to the label and see if one of the codes is there.
After you've found the code, it is time to order a touch-up paint. Touch-up paint comes  in spray can, paint pen, or in a bottle with a brush. Spray painting is the most effective way to repair a deep paint scratch. For small area, you really don't need a lot of paint, so 12 oz spray can should be more than enough. You can buy it online or at the dealership. If you trying to stay under $50, you should definitely order everything online.
Step 2: Preparing the area
Check for rust. If you noticed rust development, use rust remover. Don't forget to wear gloves when working with chemicals. Apply rust remover and let it penetrate the rust for about 10 min. Rinse off the area with clean water.
Next, remove all the dirt around the scratch with warm water and dish soap. Oils, wax, and grease are difficult to remove with water, so follow it with  prep solvent. When the area is clean, dry it completely. By the end of this step, you should have a clean surface to work with.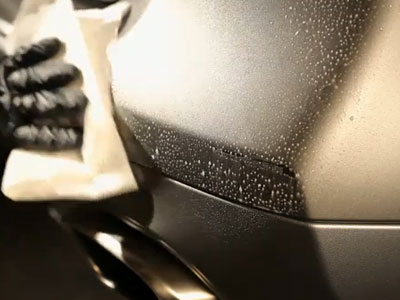 Step 3: Masking
Mask the area using auto masking tape and old newspapers to prevent overspray from the primer and the paint. Instead of newspapers you can use a plastic cover. I don't recommend using duck tape since it can leave residue. While protecting the car from oversparay, you want to make sure you leave enough space fore even blending of the primer and the paint. In the video, you can see how they masked off the whole bumper panel. If you don't leave enough space, you will get a line that will be hard to remove.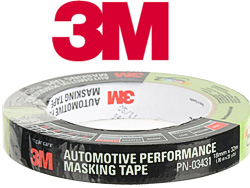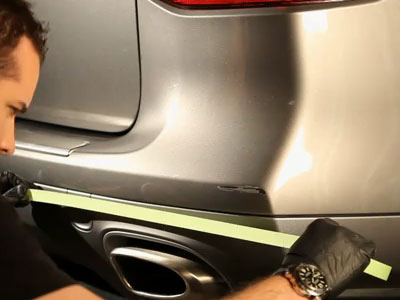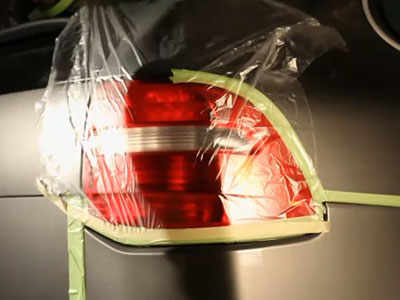 Step 3: Sanding
Sand the area with 600 grit sandpaper using circular motions. You can do "dry sanding" or "wet sanding". I personally like wet sanding more because it is faster. But you can do it either way. To wet sand the area, start by soaking sandpaper in cold water for 10 min. Use dishwasher soap to make the surface more slippery. Wash off sandpaper after 4-5 sweeps.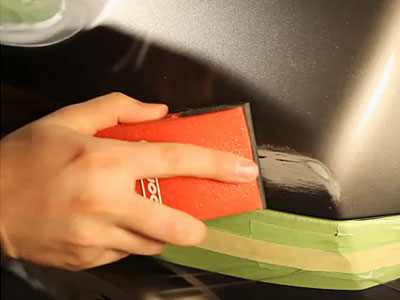 Wet sand the area that might get some touch up paint and clear coat with wet/dry 1,500 grit sandpaper. Make sure to use a lot of water.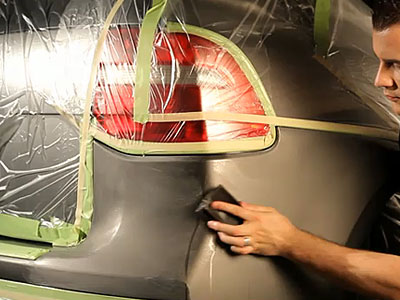 The final result should be a smooth surface without any pumps or scratches. If the surface is not perfectly smooth, all imperfections will multiply when you apply paint.   Don't worry about scratching the paint near the scratch, it will be covered with new paint.
Note: Auto sandpaper is not the same as wood sandpaper. Wood sandpaper is too rough and will leave scratches. For wet sanding make sure it says wet/dry on the sandpaper label.
Step 4: Prep solvent
After sanding is done, clean the are with prep solvent to get rid of the dust. Spray the prep solvent and wipe it off with clean microfiber cloth. Don't forget to dry the area before applying primer.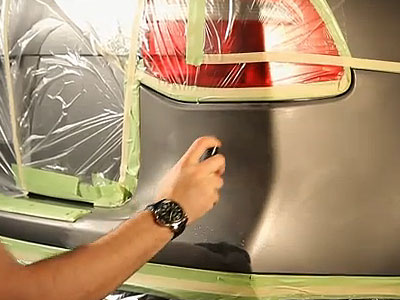 Primer will prevent metal from rust and create a uniform surface filling in sand scratches. Also, paint sticks better to primer than metal or plastic. Primer comes in four colors: black, gray, red,  and white. The idea is to buy a primer that is closest to your paint color so you will need less paint coats to cover it. Since you are working on a small area, 12 oz. aerosol primer will be enough.
Shake the can. Evenly spray the area holding the can about 15-20 inches away from the surface. Apply 3 coats giving each coat about 10 min drying time.
If you purchased your primer somewhere else, it might have a different drying time. Make sure to check the label for instructions before applying.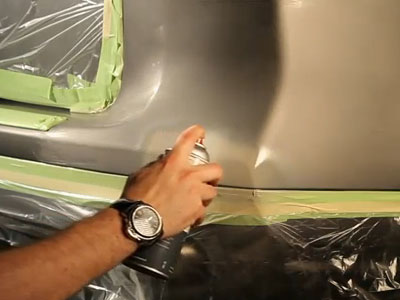 Note: Primer covers 180-320 grit sand scratches.
Step 6: Sanding Primer
In this step you want to smooth out the primer a little.  Allow the primer to dry for 30 min before sanding. Start  with wet/dry 600 grit sandpaper and follow it with wet/dry 1,000 grit. I would recommend doing a wet sanding instead of dry. It clogs less and sands faster. When you are done with sanding, dry the area.
Tip: Wrap sandpaper around a sponge to avoid fingerprints.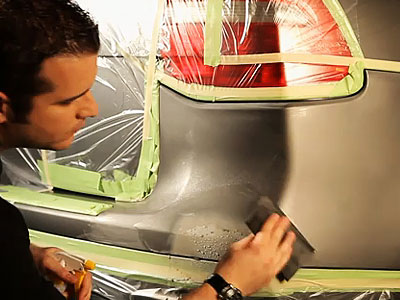 Step 7: Painting
Now you are ready to paint also called "base coat". Using a plastic trigger to convert paint can into a spray gun will make the application much easier. Test the touch-up paint first in the hidden spot, to make sure the colors match. Shake the can. Evenly spray the area holding the can 15-20 inches away from the surface.
The idea is to blend the new paint with the old one by spraying each coat a little farther from the damaged area. This method is called "feathering". Apply 3 coats. Give each coat about 10-15 minutes drying time.
Wait for 30 minutes before applying clear coat. If you over sprayed the paint, it can be easily removed with rubbing compound later on.
So far I think all the steps looked pretty easy and you have only a few steps to finish the job. At the end of these step, the surface might look dull comparing to the rest of the finish. But don't worry, it will be shiny like the rest of your car after you apply the clear coat. You are almost done.
Step 9: Applying Clear Coat
Clear coat is used to protect the car's paint from UV lights, scratches and chips. Auto paint is very fragile, but applying clear coat makes it stronger. It is also makes the surface more slippery and gives it nice shine.
Using plastic trigger on the can will make the application more even. Shake the can well. Apply 3-4 coats leaving 10-15 min drying time for each coat. Each coat should look wet and  glossy but not dripping. When the last coat is dry, remove the masking paper. Wait 24 hours before applying rubbing compound.
Note: Auto clear coat is different from clear coat for nails. Nail clear coat, also called top coat, is designed to protect nails not a car. It will will last only a few days and than will start chipping off.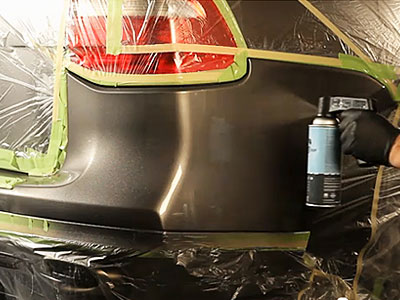 Step 10: Applying Rubbing compound

Rubbing compound is used to add gloss and to remove imperfections from the clear coat. Although rubbing compound is sometime referred to as a "polisher", rubbing compound and polishing compound are not the same. Both products are designed to remove imperfections from the clear coat, but rubbing compound is more abrasive than polishing. Rubbing compound is also used to remove over spray.
Start by reading instructions. Place few drops on the application pad and make few sweeps using circular motion. Remove residue with a clean microfiber cloth. Avoid using paper towels or old t-shorts. They are too rough and might leave ugly scratches on the clear coat.

Note: Clear coat overspray, dust or orange peel, can be removed by sanding it with wet/dry 1,500 grit sandpaper.
Step 11: Applying Polish (optional)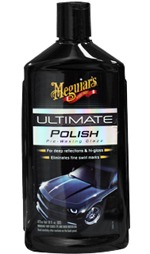 This step is optional. If you want to have showroom shine, use polishing compound. You can apply it by hand or you can use a buffing/polishing machine. I like Meguiar's Dual Action Polisher
because it doesn't lose speed when pressure is applied, has six speed setting, and won't leave swirls or holograms on your finish.
Apply polish using a clean applicator pad to one section at a time using moderate pressure. Wipe clean with a soft microfiber cloth. Turn the cloth and buff. If you are using a dual action polisher, apply it to one section at a time. Wipe dry with a microfiber cloth and then buff.
Step 12: Wax (optional)
Wait for 30 days before applying wax.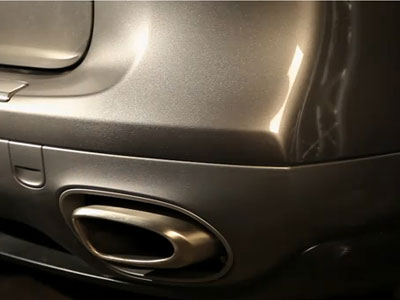 Hope you'll like this tutorial. Let me know if you have any questions or comments.
~Mike Davis