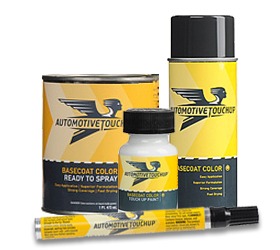 When it comes to car touch-up paint, there are multiple options available for every type of damage. Small chips and scratches can be easily fixed with touch-up pens. Long and medium size scratches can be brushed with paint. Large areas can be fixed by using spray cans. If you are planning on re-painting a whole car or one of the auto body parts, you will need to buy larger quantities of paint and a spray gun.
No matter what touch-up paint you choose, make sure it is good quality. Because even if you do everything right, a cheap low  quality paint will not give you the professional result you are looking for. When I am buying paint, I want it to be high quality, but still affordable. One of the places I like is AutomotiveTouchUp

site. They have best prices and a high quality paint that is custom mixed to perfectly match the original car color.
1. Touch-Up Paint Pens
Touch-up paint pens are widely used in the auto body repair industry. One of the reasons they became so popular is because they are very inexpensive and never dry out. Another reason is  nothing works better on small scratches and chips which require more precise application.
High quality touch-up pen should have a special tip designed to make application easier, prevent mottling and allow for multiple uses over long periods of time. Keep in mind, touch-up pens work only for damages that are not larger than the size of a pencil eraser. I like to keep a pen in a car just in case I need quickly to touch-up the paint.  Buy a Paint Pen »



2. Touch-Up Bottle
Bottle touch-up paint is usually used for fixing damages larger than pencil eraser. It comes in a bottle with a brush attached to the cap. Some products have a low quality brush which makes  it difficult to apply a thin coat of paint. This often results in a blob on the vehicle. I would recommend using a simple art brush instead. You can buy it at any art store or online. Art brush will make it much easier to apply the paint. Keep in mind, bottle paint will dry out after 6 months. Buy a Touch-Up Bottle »

3. Spray Cans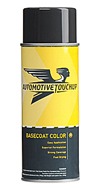 For the damages that can't be fixed with a pen or a bottle paint, spray cans are the best. One of the reasons I like spray cans is because they can be used to fix even a small scratch. All you need to do is to spray some paint into a cup and use an art brush to apply the paint. Another great thing about spray cans is that they never dry out. You should keep it at home in a cool place so it doesn't overheat. I wouldn't keep it in the car, since during winter it might freeze up and during summer it can get too hot.
One spray can will cover about 2 ½ square feet of surface. I would recommend buying a spray can with specially designed nozzle that sprays in a vertical fan, similar to a spray gun used by professionals at the body shops. Although you are not going to get the same professional result, it will make it easier to achieve smooth and even finish. When you are done,  clean the nozzle. To prevent it from clogging simply flip the can upside down and spray till the clear air comes out. Buy a Spray Can »

~Mike Davis
P.S. If you like this article, please help me promote it by clicking "Like" button below.