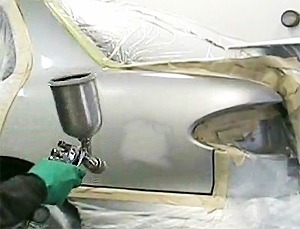 This is a second video of the 2 part video tutorial on how to repair car paint yourself.
This tutorial was made by professionals at the body shop revealing the exact steps they take to repair car paint. In case you missed it – Video Tutorial: Do-It-Yourself Car Paint Repair – Part 1.
Usually body shops will charge hundreds of dollars for a simple repair. But after watching these videos and reading my comments, you will be able to do it yourself for under $100. I will also tell you what materials and tools you should use to save money and time.
In this part you will learn how to prepare an area for paint, mask properly, apply paint and clear coat.
Items you will need for this part:


Some Optional Items:
Aerosol Spray Trigger – I put this item under optional items, however I think it is a must-have when it comes to spray painting. It turns a spray aerosol can into a spray gun making it easier to apply the paint and clear coat.
Applicator Pads – For applying rubbing compound, polish and wax.
Tack cloth
Meguiar's Polishing Compound – Use your favorite polishing compound. I like Meguiar's Polishing Compound because it uses diminishing abrasive technology, meaning the tiny abrasives break down gradually as you rub. The paint color will look bolder and brighter with a smooth, sleek shine. It is high quality, inexpensive, long lasting, and clear coat safe.
Meguiar's Tech Wax – Use your favorite wax. I like Meguiar's NXT Generation Tech Wax. This extremely durable, long lasting wax will give your car "wet look" you see in the show rooms. It protects against UV damage, and eliminates fine scratches and swirls, providing a tough polymer bond for durable protection. It is not recommended using it over another sealant or wax. To remove old wax use soapy water with few drops of dishwasher soap.
Step 11: Sanding
Even with a small paint damage it is better to respray the whole panel. Start by lightly sanding the panel and not just the damaged area. In the video, they are using a sanding paste and gold scotchbrite pad to clean the surface and prepare it for paint. You can just gently sand the area with use wet/dry 1,500 grit sanding paper.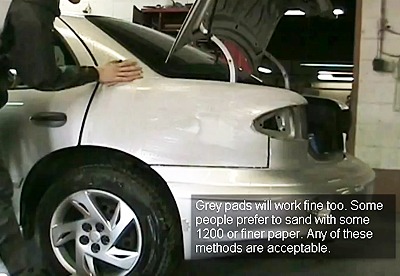 After done sanding, clean the area and dry completely.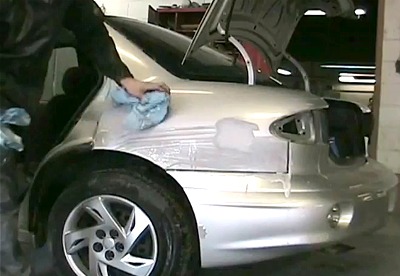 Step 12: Masking
Use old newspapers and auto tape to mask off the panel. Don't use duck tape, it will save you money but will leave a sticky residue that is hard to remove. Auto masking tape costs only a few dollars.
Step 13: Tack Rag
Tack cloth

is slightly sticky. It will easily pick up small pieces of paint dust and debris left on the surface after sanding, but will not leave behind any residue.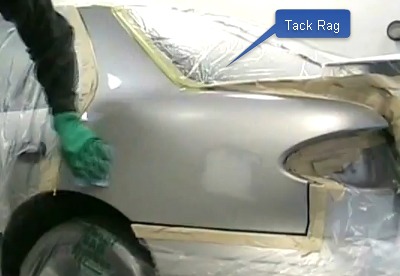 Step 14: Sealer
In the video they are using sealer and a clear toner to fill minor sand scratches. Since you are doing it at home with limited resources, you can skip this part.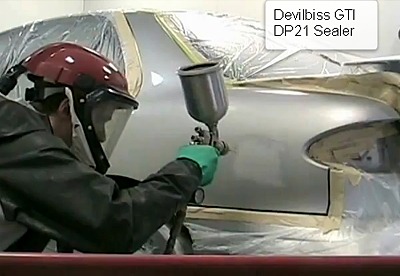 Step 15: Base coat
Spray thin coat of paint holding the can 15 inches away from the surface. In the video, they are using an expensive spray gun, but you can just use a spray paint that comes in a can.To turn your can into a spray gun, use a plastic trigger.
First coat should only cover the damaged area. Each coat should go further to blend it out. 3 base coats should be enough. Leave enough drying time between coats.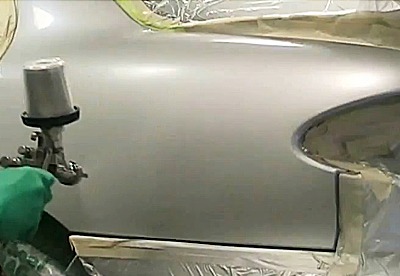 Step 16: Base Blend/Mist Coat
Lightly spray the rest of the panel to create a smooth color transition between the old and the new paint. Wait for 30 min before applying clear coat.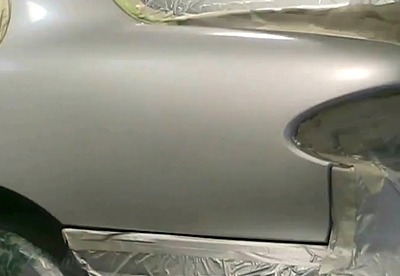 Step 17: Clear Coats
After paint has dried completely, which depends on the paint you are using, apply clear coat. In the video they are using a spray gun, but if you want to save money, use a clear coat in a spray can and sue a plastic trigger on top. Hold can 15 inches away from the surface and spray full panel with a thin layer. Three clear coats should be enough. Don't forget to give enough drying time for each layer.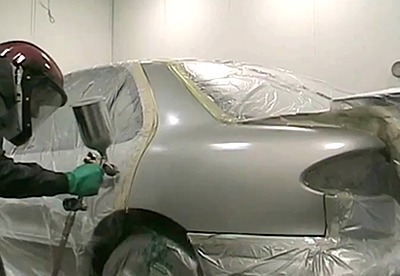 Step 18: Rubbing Compound
This step is not included in the video tutorial, but after the clear coat is dry, I like to apply a rubbing compound. Rubbing compound makes the area smoother and shinier and is also great for removing oxidation from your finish. Wait for one day before applying rubbing compound. Use application pad to apply the product. Remove residue with clean microfiber cloth.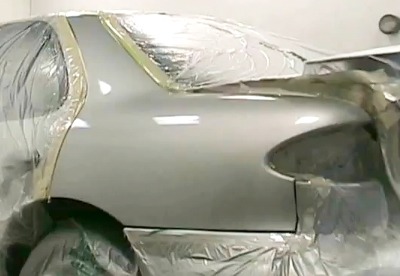 Step 19: Polishing (Optional)
If you want to have showroom shine, use polishing compound. Rubbing compound just events the area and makes the color deeper. Wax does add some sine but it is mostly use for protecting the clear coat. Polishing is what give the surface it's shine. You can apply the polishing compound by hand, but for the professional result you should use a Dual Action Polisher. I use if for to apply rubbing compound, polisher, and wax.
Step 20: Wax (Optional)
It takes about 30 days for the solvents in the paint to evaporate. That is why you should wait for 30 days before applying wax.
~Mike Davis